What better way to start of the month with a
gi
ve
aw
ay
?! HEEEYYY!!
*for some reason anytime I say giveaway I have to add a heeeyyy after*
December brings wonderful things, Jesus' birthday, presents, family, surprises, cool weather, fur boots, positive attitudes, good times,paid time off, and
TWO
Famous
Favorite things.
FIRST FAVORITE OF THE MONTH:
Haute & Naughty Mascara
12/1/11-12/9/11
Required Entries:
1. Follow on
Bloglovin
and Google Friend Connect
Extra Entries:
1. Blog about My Favorite Things on your blog
2. Put My Favorite Things Giveaway button on your blog.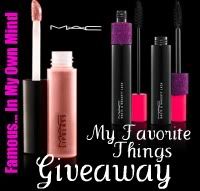 Good Luck,
Summer-Raye