You might be wondering what the SECRET SANTA is?
Well let me explain
I was trying to figure out something fun and easy
to do for Christmas with my blog.
Secret Santa between bloggers
!!!
Giveaways are fun, but who doesnt like to
give and
receive?
So I contacted my best blogging friend to co-host,
Melina from Only a Flight Away.
- required to follow Only A Flight Away,
Famous In My Own Mind or BOTH
and to spend a minimum of $10
on the gift (we don't want someone to
receive a gift that doesn't equal to
what they bought/made)
YOU HAVE ALL THIS
WEEK TO
SIGN UP
11.21.11
to
11.27.11
your name and your blog's name
Ex: Summer @ Famous In My Own Mind
email where we can contact you
for more information.
Ex:
famousinmyownmind@gmail.com
Once we get your information,
Melina or I will email you
to get your name, address,
and some clues of things you like.
We will then forward that email
to another blogger. It's going to be
super fun to receive a package on the
mail from another state or part of the world.
Here is a button to put up on your blog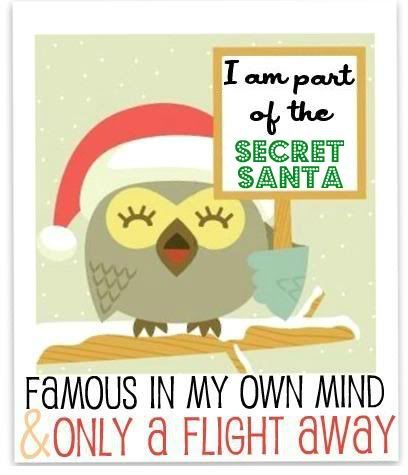 if you need the HTML code for this button
is on the right size of my blog ---->
help us get a lot of bloggers to participate
put this up on your blog, on your facebook,
on your twitter, etc. etc. Thank you =)